The Buggy
The BUGGY is home made, based on a 1968 Bee­tle (for good parts-availability). The chas­sis has a 40 cm (17″) sec­tion cut out result­ing in a very short wheel base. A fibre­glass Mey­ers Manx body is fit­ted with lit­tle over­hang fore or aft of the tires. The mod­i­fied engine and transaxle are in back, over the drive wheels. Ground clear­ance is increased, weight is min­i­mized, and larger tires are fit­ted. The result is a respon­sive, agile, enor­mously fun-to-drive vehi­cle with phe­nom­e­nal off-road capabilities.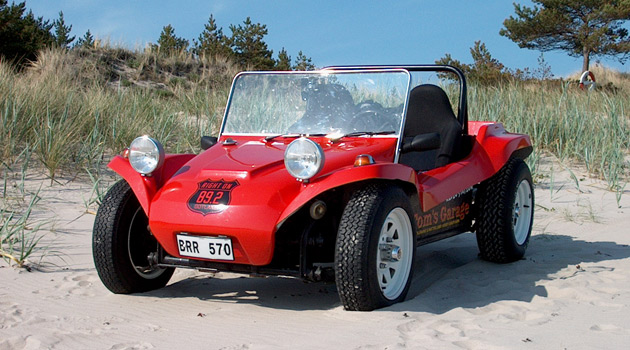 And it is cute.
The trip will be dif­fi­cult and at times dan­ger­ous. We will be exposed not only to the ele­ments, but also to the scrutiny of the peo­ple we encounter along the way, their curios­ity, their fear, their envy, and at times their hatred. A well-travelled Dane named Jacob Holdt (author of "Amer­i­can Pic­tures") once taught me that if you make peo­ple smile it is much harder for them to kill you. Under­paid sol­diers with AK-47s can use a good laugh. The choice of a lit­tle beach buggy as opposed to a big jeep is intended to help make the wel­comes we receive more pleas­ant. This is impor­tant since we are depen­dent upon the warmth, the friend­li­ness, and the help of the peo­ple along the way for suc­cess­ful com­ple­tion of the adven­ture, indeed pos­si­bly for sur­vival. Con­fronta­tion and col­lab­o­ra­tion occur much more reg­u­larly and inti­mately on a jour­ney of this kind than on a vaca­tion or group adventure.
Many peo­ple ques­tion the wis­dom of tak­ing a tiny old open vehi­cle through Africa. I explain that it is par­tially from a safety stand­point that I chose the Buggy. Let's face it, if lions are our biggest threat we will have a won­der­ful trip!