ABOUT
Instruc­tions: Take one crazy Amer­i­can guy with one-arm, add one cute Japan­ese girl with a tem­per, shake well in a dune buggy across Africa and what do you get?

- A Recipe for Disaster!

Or… a great new doc­u­men­tary film about love, life, and a com­plete lack of rea­son (IMBD). Action, adven­ture, romance, and the mean­ing of life, all come together in this highly enter­tain­ing and polit­i­cally incor­rect documentary.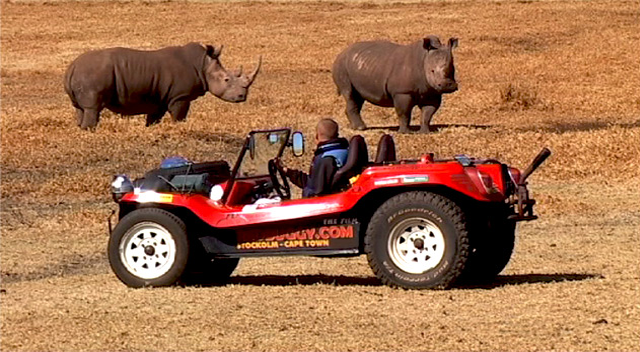 Wel­come to redbuggy.com. Here you can fol­low the adven­tures of our movie mak­ers as they pilot their tiny beach-buggy 30,000 miles over­land from Swe­den to South Africa and beyond! Yoshiko and Tom weather the ele­ments and meet the peo­ple. They expe­ri­ence every­thing from close encoun­ters with big-game to a death-defying ille­gal entry into Sudan. And the only thing more chal­leng­ing than keep­ing the car together turns out to be keep­ing its occu­pants together…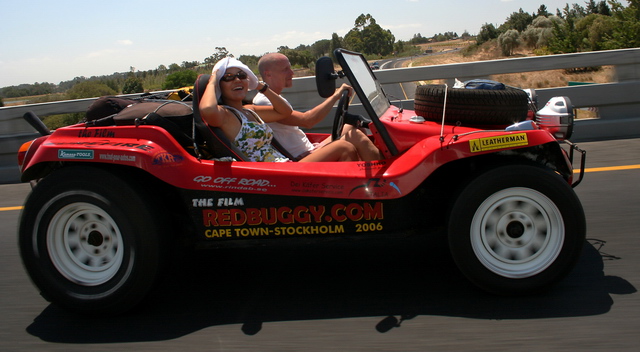 There is no addi­tional cam­era crew, no fol­low vehi­cle, and no sup­port team of any kind! From sol­diers with AK-47's to irate ele­phants — our intre­pid trav­el­ers go it alone. Through the tears and the mind-boggling phys­i­cal chal­lenges, Yoshiko and Tom keep their cam­era rolling.
Fill in your e-mail address under SUBSCRIBE to the right to auto­mat­i­cally receive updates directly in your mail­box as they are avail­able. The film is now com­pleted and avail­able for FREE view­ing by click­ing HERE!

Con­tact email address: info (

AT

) redbuggy.com