My Soul Will Have to Wait...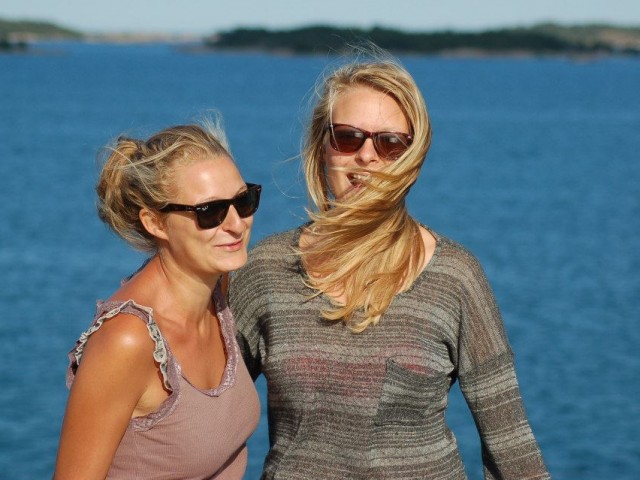 Pernilla and Marika all grown up.
Decem­ber 12, 2012
–Motor­cy­cle acci­dent huh?
–Nurse huh?
She was attrac­tive, dark-haired, thirty-something, and stand­ing right next to me at the bar in Tran­syl­va­nia, yet I hadn't noticed her until she spoke. My reply was based on expe­ri­ence; women who know how I lost my arm before I tell them are always nurses.

– Nope, doc­tor, Chief of Surgery actu­ally.
– That would explain it too.
– Healthy one-armed guy with tat­toos and a scar on his spine… doesn't take a psy­chic.
– Not a psy­chic, just a Chief of Surgery… or a nurse.
I smiled and so did she. Then I spun around to relate the exchange to my curi­ous Roman­ian friends, but when I spun back she was gone. I'd been reduced to a med­ical sta­tis­tic and pos­si­bly missed out on an inter­est­ing date. The story of my life these days — too lit­tle time to meet good women, then when I do I drop the ball.
I'm liv­ing right on Venice Beach now with my amaz­ing daugh­ter Marika; it's like get­ting a sec­ond shot at life. Our Buggy is the coolest car in Los Ange­les. And Radical.FM has just released our full-blown ser­vice in Swe­den and a lim­ited ver­sion world­wide. But I work a lot of 15 hour days and live in a con­stant state of jet-lag between LA, New York, Swe­den, Roma­nia, and SE Asia. I rarely know what time zone I'm in, never mind what's cool in a given soci­ety or situation.
Yoshiko is in Japan with a new life, but we still chat occa­sion­ally. She has no tol­er­ance for my com­plaints and says I'm spoiled to have a fas­ci­nat­ing job and two amaz­ing daugh­ters, and that's true enough. She also says I'm sin­gle by choice, and that I'll find love as soon as I'm ready. I hope she's right there, because I've 'felt' ready for a while. She means that I pri­or­i­tize Rad­i­cal over a love life, and she should know. In fact I'm so busy that I haven't had time to update Red­buggy in over a year; my apologies.
And in all that time my dis­trib­u­tors have still not secured a deal for Adven­turess Wanted. As an artist my great­est fear is not star­va­tion but obscu­rity — that my work will not be seen. That would be an insult to every­one involved with this movie, so I've decided to self-distribute. Inter­net is chang­ing the way cre­ative works can find an audi­ence. Some blog­gers develop big­ger fol­low­ings than estab­lished jour­nal­ists. Tal­ented inde­pen­dent musi­cians are gain­ing trac­tion with­out label sup­port. And at least occa­sion­ally, Indie Film­mak­ers find recog­ni­tion with­out stu­dio backing.
I'm work­ing hard to make Radical.FM the most excit­ing music ser­vice in the world. If I suc­ceed I'll make more money than I need, so I'm becom­ing phil­an­thropic; with every­thing I've seen in life I want to start giv­ing back. But I'm not rich yet, so I have to start small. To pro­mote the arts I've decided to release Adven­turess Wanted as a User Sup­ported exper­i­ment. We've just set up qual­ity down­loads from this site, and we'll let peo­ple dis­trib­ute it as they see fit – so go for it, and spread the word! It's water­marked for dona­tions and we've added a Pay­Pal Dona­tions page as well. And if the film gen­er­ates any money we'll start a fund for The African Acad­emy of Gifted Girls which I will get around to build­ing after I've moved on from Radical…
And had a very LONG vacation.
Until then dreams of beau­ti­ful women, pro­fes­sional suc­cesses, and being near my daugh­ters, will have to keep me strong through gru­el­ing hours and sleep­less travels.
Music helps too, and Marika has intro­duced me to sev­eral songs I'd likely have missed if she were not back in my daily life. Recently she turned me on to "San­te­ria" by Sub­lime. We were sure we had dis­cov­ered the next big hit as we blasted it repeat­edly on Radical.FM until the neigh­bors com­plained. But it turns out the song is twenty years old and was a big hit here in California.
Who knew in Sweden?
"San­te­ria" is my all-time favorite song of the moment and its cho­rus sums up my existence:
What I really want to know, milady,
What I really want to say I can't define.
Well its love that I need,
But my soul will have to wait…
But you don't have to wait another minute to see Adven­turess Wanted!
Down­load the entire 90 minute award win­ning film imme­di­ately right here! And while my lonely soul waits impatiently…
Enjoy the film, and enjoy very Happy Holidays!