The African Academy for Gifted Girls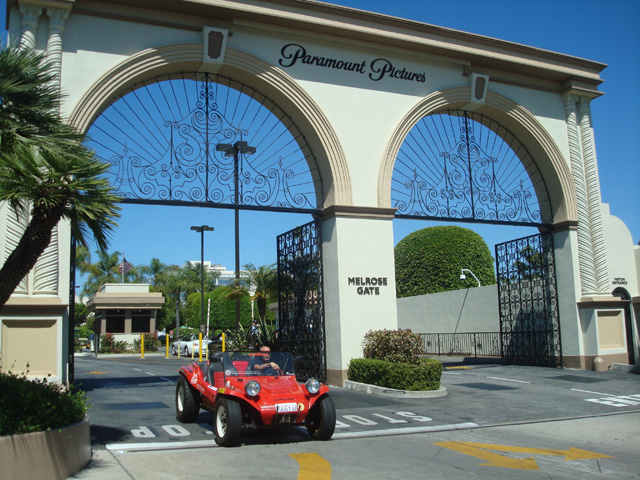 Leav­ing the Tau­rus offices on The Para­mount Lot
Jan­u­ary 25, 2011
Human beings need per­spec­tive. We won't find it on TV.
Still, my daugh­ter and I really enjoyed the series Boston Legal. Then an old friend rec­om­mended Mad Men, an out­stand­ing period piece about my father's Amer­ica; where white-collar work­ers drank whisky at the office, pres­i­den­tial can­di­dates were expected to have extra-marital affairs, and EVERYBODY smoked cig­a­rettes. And Cal­i­for­ni­ca­tion is my all time favorite show of the moment; a sort of con­tem­po­rary Mad Men with X-File's David Duchovny play­ing a trou­bled nov­el­ist drown­ing in a sea of Cal­i­forn­ian deca­dence. The line is blur­ring between mediocre movies and qual­ity TV. But there is a real world out there, beyond our high-def screens, beyond our polit­i­cal bor­ders, and beyond most of our imag­i­na­tions, and my expe­ri­ence in Africa will never let me for­get it.
Mar­i­lyn Mon­roe described Hol­ly­wood as a place where they'll pay you a thou­sand dol­lars for a kiss and fifty cents for your soul. I came here seek­ing dis­tri­b­u­tion for my movie and it's not been a pleas­ant expe­ri­ence. But after a year of knock­ing on doors I finally signed a film dis­tri­b­u­tion deal; Adven­turess Wanted now has world­wide rep­re­sen­ta­tion by an estab­lished Hol­ly­wood dis­trib­u­tor (Tau­rus Enter­tain­ment Com­pany). There is no cash guar­an­tee; I get a per­cent­age of sales (if any). But hav­ing one's debut fea­ture film get picked up by a dis­trib­u­tor is sig­nif­i­cant, and all involved are thrilled. And this would likely not have hap­pened if I were any­where else in the world; which means that on rare occa­sion, Hol­ly­wood can still be a place where dreams really do come true.
Per­sis­tence also paid off when we were accepted to our first (and thus far only) com­pe­ti­tion, The New York Inter­na­tional Film Fes­ti­val — and we won! Adven­turess Wanted gar­nered me an award for Best Direc­to­r­ial Debut.
It's nice to have brag­ging rights as an award win­ning direc­tor, but with Adven­turess Wanted out of my hands I had too much time for drink­ing beer and watch­ing TV. So I have put myself back to work relaunch­ing a pop­u­lar on-line music ser­vice we devel­oped in Swe­den just before I started this movie. Tomsradio.com was an idea ahead of its time when we founded it, but after six years in Africa the music indus­try has finally caught up. So we have given that site a major facelift and a new name, and Radical.FM will be an inter­ac­tive Inter­net radio sta­tion for the US mar­ket and even­tu­ally the world. If suc­cess­ful, it could make me a lot of money. But these days I don't require a lot of money, I appre­ci­ate the impor­tant things in life like fam­ily and friends. It would be nice to buy my kids a stu­dio apart­ment each and maybe a sail­boat for myself, but that's still not big money. No, if I make a lot of money now, I think it's time to give some back.
'The African Acad­emy for Gifted Girls' is an aid project I dreamed up dur­ing my time in Zam­bia. It wouldn't replace reg­u­lar high school, rather com­pli­ment it. Through a series of tests we would iden­tify the bright­est local youth and pro­vide them the means to con­tinue study­ing to at least a West­ern col­lege entry level. The Acad­emy would feed and house them and cover all tuition, books, and fees. Most impor­tantly we would sup­ple­ment the weak local school­ing with extra courses in vitals like com­put­ers, com­mu­ni­ca­tions, inter­na­tional pol­i­tics, and com­mu­nity ser­vice. And prac­ti­cal things like swim­ming, nutri­tion, and basic self-defense train­ing to build dis­ci­pline and con­fi­dence. Finally, they would all have valid pass­ports, and have been on sev­eral field trips each by graduation.
The idea is to make them attrac­tive inter­na­tional col­lege can­di­dates, and sought after employ­ees should they decide to forgo uni­ver­sity. Either way they would be instilled with a sense of giv­ing some­thing back to the local com­mu­nity once pro­duc­tive adults. As stu­dents, they would help to develop the Academy's Inter­net site, rep­re­sent them­selves to the inter­na­tional com­mu­nity, and even assist with fundrais­ing events. The most tal­ented could help to run and expand the pro­gram mak­ing it almost self-perpetuating. Aid pro­grams fail because the bil­lion­aires and bureau­crats ear­mark­ing the funds can't relate to the peo­ple they are try­ing to help. While Bill Gates and MIT debate the per­for­mance require­ments of 'hundred-dollar lap­tops' to be dis­trib­uted to poor chil­dren, they miss the big pic­ture; with­out a point of ref­er­ence the kids will only use them to play games and lis­ten to music. Tech­nol­ogy should not be a pri­or­ity. In Cen­tral Africa those for­tu­nate enough to have jobs often walk two hours a day to work; bicy­cles could increase their pro­duc­tiv­ity by 20% — just look at Asia. Elec­tric water pumps fall into dis­use in vil­lages for lack of a fif­teen cent o-ring. Why not install cheap old fash­ioned hand pumps instead? Then local mechan­ics can man­u­fac­ture replace­ment parts and keep them work­ing long after the West­ern engi­neers have gone home.
Pro­vid­ing gifted, socially con­sci­en­tious, and inter­na­tion­ally astute local lead­ers for the price of your aver­age African board­ing school may prove to be a very suc­cess­ful aid strat­egy. And although women are clearly sec­ond class cit­i­zens in Africa and in more need of sup­port than men, if the pro­gram is suc­cess­ful there is no rea­son that it could not be expanded to cover all gifted youth; and why not all devel­op­ing nations? But it is impor­tant to start small and let expe­ri­ence shape the speed and direc­tion of growth.
In any case I first have to get rich… yep, there is always a catch. And while we are thrilled by the fact that Adven­turess Wanted is finally gain­ing some trac­tion, it in no way guar­an­tees me money. So Radical.FM it is!
I suc­ceeded in rais­ing seed cap­i­tal recently so I've donned a suit again (never a tie) and leapt back into the com­pet­i­tive cor­po­rate chaos that was once my daily fare. And it feels sur­pris­ingly appro­pri­ate after years on the road. I am wiser and still strong, and the music indus­try will suc­cumb… we hope.
So stay tuned for a Rad­i­cal launch in early 2011.
But don't get the idea that I have for­got­ten about the movie indus­try. Radical.FM is a wor­thy effort on its own, but it may also fur­ther my film career. If Rad­i­cal is suc­cess­ful then Amer­i­can media will won­der where I came from and Adven­turess Wanted may find an even big­ger audi­ence. Then down the line some­where when I've hung-up my Armani and I'm run­ning the 'African Acad­emy for Gifted Girls' as an inde­pen­dently wealthy phil­an­thropist, tired of com­fort­able vod­kas and Amer­i­can TV, I'll be in a per­fect posi­tion to do some ultra high-def adven­ture films in deep­est Africa.
Ah yes, the best laid plans of mice and men…
Mean­time I'm going to start sea­son four of Cal­i­for­ni­ca­tion and have a beer.
Have a great year everybody!